How To Enter
Step 1
Select which type of competition you want to enter from the Categories option on the left hand side of the pages.
In this example we have selected British Dressage competiotns.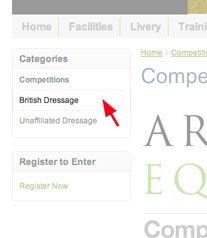 ---
Step 2
Then click on a competition from the list of available dates. In this case we have selected Friday 21st November.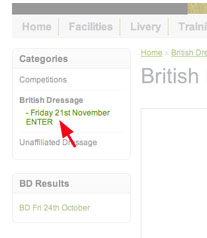 This will display all classes for that competition.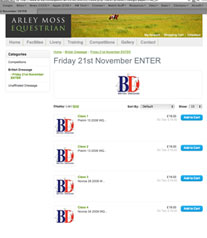 ---
Step 3
Add each class you want to enter to your 'shopping cart' by clicking Add to Cart.

Fill in the details for your entry in each class.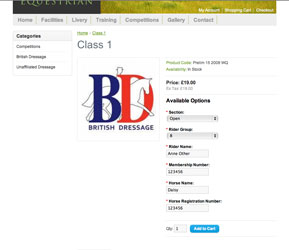 ---
Step 4
When you are ready to pay, select Checkout from the text link at the top right of the page.

---
Step 5
All the classes you selected are now listed in your 'basket'. Please check them carefully and when you are ready to pay, select the Checkout button at the bottom of the page.