Hiring our equestrian facilities.
Prices

Playtime Package


Use of ALL facilities listed below for up to an hour - £10, but if you require totally exclusive use of any, then £20 per hour.

Exclusive use
60 x 23m Indoor Arena £25.00,
Show jumps £20 per hour, £10 per half hour.

To Book
Phone Richard: 07973 549 656
AXC Schooling fences hire
The selection of XC training fences are perfect for those wanting a little playtime and are complimented by the newly built water splash.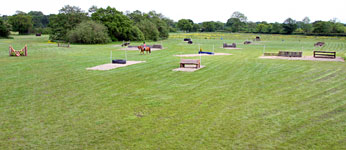 Grass Dressage Arena
In the summer we also have a mown grass 40m x20m dressage arena marked out and lettered in the field for practicing those all important dressage moves.
Show jumps hire
Usually set up in the 45m x 45m outdoor arena, a range of schooling fences are available.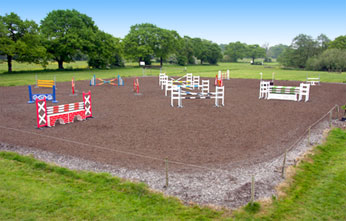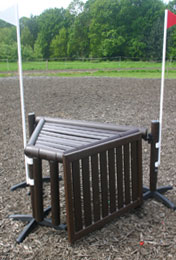 A totally new course of PVC Show jumps, hjumps are a fabulous addition the facilities available here at Arley Moss. Arranged as a course in our 45m x 45m all weather surface show jumping arena, the 1.6m jumps wings and mix of fillers provide enough technical demands and colour for training at most levels.

Indoor Arena hire
Fully floodlit 60 x 23m Indoor arena with Martin Collins ecotrack international competition quality surface.
The extension of the Large Indoor School is now complete. It has been transformed into a 60m x 23m arena with a new international competition surface. This is a high-tech special mix of Ecotrack from Martin Collins, the UK's top equestrian surface manufacturer & installer.
Ecotrack is a waxed competition surface for professional riders & permanent show venues. It also has the added benefit of specially designed mirrors installed by Brickwoods Arena Mirrors Ltd, an important tool for serious training!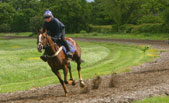 Gallops
Circling the show jumping arena and XC fences is our 6 furlong all weather gallop. This is available for fitness work or specific training purposes and is great for those competition enthusiasts.