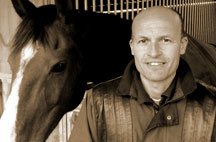 Situated within the grounds of Cheshire's Arley Hall Estate we offer a unique equestrian facility for both competition and leisure riders.
Our competition facilities include a 6 furlong all-weather circular gallop, floodlit indoor and outdoor arenas, all weather show jumping arena and cross country schooling fences.
Our off-road estate ride is over 5 miles long with a number of optional routes giving you access to the otherwise privately owned Arley Hall Estate. Suitable for experienced and novice riders alike. Interesting or relaxing, it's up to you.
We offer both Full Livery and DIY Livery and welcome riders and owners of all abilities and offer 24 hour security for your horse.
We produce our own high quality home-grown hay and haylage from specific horse hay grass seed varieties. Our completely dust free hay is unique.
We have an on site rug laundry service.
Most of all it's a great place to be amongst friends who love working with horses.


Arley Moss Equestrian Owner.