You can depend on us
to deliver the very best.
Arley Moss Equestrian offer a wide range of equestrian services to suit every rider and every budget. Our yard has a great family atmosphere and is a haven for horses and horse lovers.
Below you will find most of the services we offer but if you can't find what you are looking for just ask us, the chances are if we don't already offer it we can arrange it for you!

DIY Livery at Arley Moss Equestrian
We offer a wide range of stables available from small pony stables, extra large 15ft x 15ft stables and specialist foaling boxes equipped with CCTV. Each stable benefits from rubber matting and automated water drinkers and are situated in various blocks around the farm.
Horses are grazed in small same gender groups in electric fenced paddocks. There also are a limited number of single horse or hospital paddocks which are available by request. A morning feeding service for hard feed and hay nets is also offered to liveries free of charge. Unlimited use of all the first class facilities here at Arley Moss Equestrian is all inclusive in the stable rental.
A variety of premium homegrown hay or haylage is available, which has been nutritionally analysed to help you make the right choice for your horse.
We offer all types of bedding; Thoroughbred shavings, Easibed, Paper, Sawdust, Natural flake and straw, which can be ordered and delivered daily to your stable.
Part Livery / DIY With Services
For owners looking for some help with their horses, we offer a range of flexible services which are available 365 days per year. Services can be booked on an ad hoc basis and the services team at Arley Moss will help you with as little or as much as you require. All service work is electronically recorded, which means that we are able to email fully detailed invoices clearly illustrating the services carried out, when, and by whom. The team are committed to looking after your horse to the highest possible standard. Services include mucking out, turnout and bring in, holding for the vet or farrier, feeding, lunging, exercising, show preparation, plaiting and clipping.
Full Livery
Bespoke full livery at Arley Moss is tailored to suit your personal requirements . Based on 7 days a week services we can provide a complete daily care package, additional extras such as tack cleaning , clipping, washing and plaiting etc can be included by request . Individual care is given by dedicated staff members who work closely with the owners to deliver high standards of stable management and horsecare.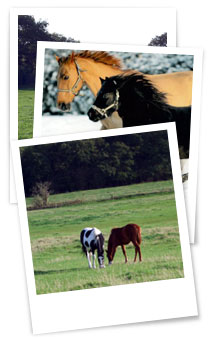 Grazing Livery
Whatever your reason, why not send your horse to enjoy on Cheshire's beautiful Arley estate?

Grass livery at Arley Moss is based on total care, 24/7 turnout. Here at Arley moss we we specialise in grass livery for young stock, retired horses, injured horses and brood mares with or without foals at foot.

Horses are mainly turned out in on the tranquil parkland of Arley Hall, they are usually grouped by age and/or sex and receive individual care and attention from our experienced staff.

All horses are checked daily , are wormed following a planned programme and receive regular foot care. Many horses with medical problems are living happily in a retired herd. Although we stick to many tried and tested methods of care, all horses are treated as individuals with their needs catered for wherever possible. Owners are kept fully informed and involved as much or as little as they prefer. Yard visits are welcomed and you horse will always be pleased to see you.
Because we don't over graze our fields we are usually able to swap horses onto fresh grass mid winter. To supplement this, Premium Haylage is fed when ever required - usually mid December to April. Most fields are edged by woods therefore the horses can find plenty of shelter away from the wet English weather. For horses requiring individual or more specialised care please contact us to discuss options.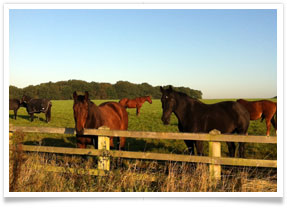 We are happy to take care of everything from farrier visits and flu jabs to changing rugs and worming. Designated stables are kept free at the main yard should they be required for any unforeseen events.

We offer turnout for in foal mares and can provide foaling facilities including foaling boxes with viewing cameras.
Retirement Livery At Grass
A horse doesn't have to be old to live at Arley Moss on retirement grass livery. We have horses who are retired due to injury and enjoy a happy life with us. Often horses who live on painkillers due to conditions like arthritis find they do not need this help when they are able to wander about in the fields as they wish. Stabled horses usually adapt very well once they have bonded with their 'mini herd'.
We encourage horses to be well rugged in the winter and are happy to change rugs throughout the seasons. We are also able to offer stabled full livery in the winter should you require this. Our aim is to provide the horses with what they need to enjoy this stage of their life and provide you with peace of mind that your horse is relaxed and happy.
Rehabilitation Livery
The facilities at Arley Moss Equestrian mean we are set up to offer rehabilitation livery. On either a long or short term basis, your horse can benefit from use of the horse walker and playpens, small hospital paddocks and individual care. Our visiting equine osteopath, Bruce Hewitt, can be called upon and we are happy to work alongside any of the local vets.


Youngstock Livery
Youngstock care can be quite specialised. This begins with handling the foals and weanlings and continuing this care as they grow older. We aim to teach all youngsters to lead, have their feet trimmed and generally behave. ( additional charges may be Due in extreme cases of wild, nervous or shy youngsters due to the amount of time we would need to spend with them) We also place great value on natures way of teaching manners to young stock; Often slightly unruly youngsters benefit from grazing with an older matriarch.

In addition to the above, grass livery holiday livery and short term grazing is also available.
We have summer and winter grazing for mares with foals at foot and all year turnout for your weaned yearlings.





For more information or to arrange a show round please call Alison on 07769700768 or email grazing@arleymossequestrian.co.uk